Saint Patrick's Day, or the Feast of Saint Patrick (Irish: Lá Fhéile Pádraig, "the Day of the Festival of Patrick"), is a cultural and religious celebration held on 17 March, the traditional death date of Saint Patrick (c. AD 385–461), the foremost patron saint of Ireland.
Saint Patrick's Day was made an official Christian feast day in the early 17th century and is observed by the Catholic Church, the Anglican Communion (especially the Church of Ireland), the Eastern Orthodox Church, and the Lutheran Church. The day commemorates Saint Patrick and the arrival of Christianity in Ireland, and celebrates the heritage and culture of the Irish in general.
Celebrations generally involve public parades and festivals, céilithe, and the wearing of green attire or shamrocks. Christians also attend church services and the Lenten restrictions on eating and drinking alcohol are lifted for the day, which has encouraged and propagated the holiday's tradition of alcohol consumption.
Saint Patrick's Day is a public holiday in the Republic of Ireland, Northern Ireland, the Canadian province of Newfoundland and Labrador, and the British Overseas Territory of Montserrat. It is also widely celebrated by the Irish diaspora around the world, especially in Great Britain, Canada, the United States, Argentina, Australia, and New Zealand. Saint Patrick's Day is celebrated in more countries than any other national festival. Modern celebrations have been greatly influenced by those of the Irish diaspora, particularly those that developed in North America.
Here in the Palm Beaches, it is a day of fun, that although tends to lean quite heavily on the consumption of green beer and other traditional adult beverages, can also be fun for revelers of all ages.
With the little ones taken care of we start out our column with a little contest, followed by some dining tips, drinking tips (healthy ones at that,) and end with some reading suggestions!
Contests
We at Palm Beach Happening know that there's one thing our readers can agree on; winning!
This month, we are offering our lucky followers a chance to snag a family four pack of tickets to the South Florida Science Center and Aquarium. Visit our Facebook page for details.
So, if you have the luck of the Irish, perhaps you'll be our next winner.
Dining
Three festive Irish dishes are back on the menu to celebrate St. Patrick's Day, now through March 18, at all 27 TooJay's restaurants throughout Florida.
You don't have to be Irish to love corned beef and cabbage at the restaurant known for its generous servings of homemade, New York deli favorites. Traditional Corned Beef and Cabbage Dinner is on the menu along with Famous Murphy's Seafood Chowder. The restaurant offers an interesting selection of beers and wine to complement the St. Patrick's Day specialties. For dessert, the ever popular Chocolate Covered Irish Cream Cheesecake is an irresistible St. Patrick's Day indulgence from TooJay's amazing bakery. TooJay's can also cater a festive St. Patrick's Day spread – perfect for home or office celebrations. 
In addition to the seasonal options, catering is available year-round for parties large and small, at home or at the office, for breakfast, lunch or dinner. The crowd pleasing menu is known for creative selections of piled-high sandwich platters with sliced-to-order meats and a variety of salads, as well as complete dinners with gourmet hors d'oeuvres, hot entrées, salads and desserts.
Guests also are invited to join the "Delicious Rewards" program on TooJay's mobile app, available for iOS and Android. Guests receive a free dessert or small plate upon signing up and can earn points, receive special offers and check out TooJay's menu and locations.
Founded in 1981, TooJay's has grown to 27 restaurants throughout Florida and currently serves guests in Palm Beach and Broward counties, the Treasure Coast, the West Coast of Florida, the Orlando area, The Villages and Polk County.
TooJay's received the 2016 Best of South Florida Award for Best Deli from the Sun Sentinel, 2017 Dining Award for Best Deli from Orlando Magazine, two Foodie Awards for Best Deli and Best Take-Out from the Orlando Sentinel and is ranked eighth in the country for Family Dining by Consumer Reports.  
For more information about TooJay's, visit TooJays.com. Follow TooJay's at twitter.com/therealTooJays and instagram.com/toojaysdeli or visit the Facebook fan page, which has over 88 thousand fans, and become a fan at facebook.com/TooJaysDeli.
Everyone is Irish on St. Patrick's Day and Fresh Harvest in Coconut Creek is celebrating with a wow-worthy feast that will impress any discerning palate. 
On Saturday, March 17, guests will have their choice of two seatings at the busy eatery, located in Seminole Casino Coconut Creek. Brunch and dinner options will include farm-and-sea classics, like fork-tender Corned Beef Brisket, Shepherd's Pie, Guinness-Braised Beef Tenderloin Tips, Steamed Crab Legs, and Peel-and-Eat Shrimp.

Brunch hours are 10 a.m.-4 p.m. Price is $28 for adults; $17 for children 10 & under. 
Dinner hours are 4 p.m.-9 p.m. Price is $33 for adults; $17 for children 10 & under.
Drinking
Winter has come and gone! We welcome spring by doing some necessary spring cleaning! Not just externally – but also by detoxing internally! We love this antioxidant packed detox smoothie! It's full of fiber, vitamin C, omega 3 fatty acids, folic acid, phytonutrients, antioxidants and so much more goodness that will make you gl-EAU from the inside out!
Spring Cleaning Detox Smoothie, courtesy of
Eau Spa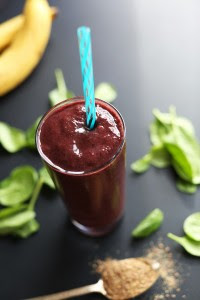 1 Cup Frozen Berries
1 Cup Organic Spinach or Kale
1/2 Banana
1 Tablespoon Ground Flax Seeds
1 Cup Coconut Water
 (Or try with unsweetened green tea for a little pick me up!)

Optional: 1 scoop of Protein Powder  (We love Vega Protein & Greens)
Reading
While many Americans celebrate St. Patrick's Day by wearing green (and getting pinched if you don't!), watching the Chicago River turned green, and eating corned beef and cabbage, it is a centuries old cultural and religious celebration. If you've never explored the fascinating culture or history of Ireland and the Irish, here are a few titles to get you started, courtesy of Adam Davis, Director of System Services for the Palm Beach County Library System!
Rachel's Irish family food : 120 classic recipes from my home to yours / Rachel Allen.
"Rachel Allen, the face of real Irish cooking, shares the authentic Irish recipes that bring her family and friends racing to the table. With Rachel's Irish Family Food, you can bring a taste of Ireland to your table too. Bring loved ones together with this collection of delicious and simple recipes that highlight the best of authentic Irish cooking. Over 100 recipes that offer the best in both traditional and modern Irish cooking, from new twists on old classics to tried and tested recipes which have delighted many generations in Ireland and are sure to become firm family favorites in your home. Quick and simple dinners, big family feasts, sweet treats and celebration food, this is family cooking at its best, made to share with those most important in your life. Rachel's Irish Family Food will warm the heart and soul, fill the chairs around your kitchen table and fill your house with life and laughter." ®Bowker
Sons + fathers : words and images supporting the Irish Hospice Foundation / foreword by Bono ; introduction by Colm Tóibín ; edited by Kathy Gilfillan.
"The idea for this generous book of filial tributes in words and pictures came to musician and activist Bono during his father's final days, and the result is an expressive gathering of prominent writers, artists, and public figures sharing memories of their fathers. Novelist Colm Tóibín (Nora Webster, 2014) sets the volume in motion with a probing introduction, in which he remembers his father writing and muses over the profound roles that complex, often dramatic relationships between fathers and sons or the absence thereof have played in literature since stories were first preserved. The homages that follow vary in form just as such relationships vary from extended essays to a single reverberating line and include powerful images, primarily photographs. Participating musicians include the Edge, Sting, and Paul McCartney (who shares the lyrics of a song he wrote that was inspired by one of his father's favorite expressions). Among the writers are Richard Ford, Colum McCann, and Salmon Rushdie, while the world of film yields Gabriel Byrne and John Waters. Handsomely produced and affecting."–Seaman, Donna Copyright 2015 Booklist
A catered St. Patrick's Day : a mystery with recipes / Isis Crawford.
"St. Patrick's Day is usually a time of revelry in Longely, but this year things will be different. The festivities certainly don't get off to a smooth start when Bernie's boyfriend finds Mike Sweeney floating face down in a vat of green beer. So much for the luck of the Irish. When their best customer's nephew, Duncan, is tagged for the crime, Bernie and Libby are asked to investigate. It won't be easy, though, because Duncan looks like a good fit for the crime. Bernie and Libby laser in on Duncan's friends, all members of The Corned Beef and Cabbage Club. But the deeper Bernie, Libby, and Sean delve into Mike Sweeney's death, the more they discover that things are most definitely not what they seem" ®Bowker
The immortal Irishman : the Irish revolutionary who became an American hero / Timothy Egan.
"Those who have heard of Thomas Francis Meagher (1823-1867) will likely know him as a Union general in the Civil War, but Egan (The Big Burn), National Book Award-winner for The Worst Hard Time, moves Meagher convincingly into the ranks of patriots of both the U.S. and Ireland. With novelistic skill, Egan fashions a dizzying tableau of the life of his restless subject. Meagher was an Irish revolutionary who was condemned to death but then exiled to Tasmania. He then escaped to America, where he lived in New York City and became active in Irish-American politics. He was later appointed general of the Union army's Irish Brigade (which helped knit oft-scorned Irish immigrants into the American fabric) and became a heroic war leader, before becoming lieutenant governor of the Montana Territory… As history, Egan's book is solid; as storytelling, it's captivating." Copyright PWxyz, LLC.
The story of Ireland : a history of the Irish people / Neil Hegarty.
"There's much more to Ireland than shamrocks, the potato famine, or James Joyce, as Irish writer Hegarty notes in this fresh recasting of Irish history. Irish fiction writer Hegarty emphasizes the external political and cultural forces shaping the destiny of the Emerald Isle and chips away at the usual myths by presenting a sweeping panorama that includes the first Christian communities, Columbanus's powerful sermons, the Viking settlements, the early great documents of the new land, and the long reach of the Roman Catholic Church into Irish affairs. Significant global political and religious events influenced the country's governance and cultural tensions, such as the Anglo-Norman conflict, the English civil war, the American and French uprisings, the two world wars, and the recent international bailout of the Irish economy. Without succumbing to a dry academic tone, Hegarty offers a finely researched and timely celebration of Ireland's turbulent history and conservative people." Copyright PWxyz, LLC.
Clodagh's Irish kitchen / Clodagh McKenna ; photography by Tara Fisher.
"The food scene in Ireland is thriving, and Clodagh McKenna is at the forefront of it all. Clodagh presents today's Irish cooking at its best with Clodagh's Irish Kitchen, in which she takes the stereotypical Irish dishes Americans usually think of and revitalizes them to the current Irish palate. Dubbed as Ireland's answer to Rachael Ray or Martha Stewart by Forbes Magazine, Clodagh says, "In Ireland life revolves around the kitchen, whether it s cups of tea and a piece of cake fresh from the range, a family supper, Sunday lunch, or our famed Irish breakfast life happens over a simmering pot in Ireland. I have gathered all my family recipes from my earliest memories of baking cakes and breads with my mum and sisters on a Saturday to comforting suppers that I love to eat when I go home to my more sophisticated Irish menus I cooked for the Taoiseach of Ireland. We love to celebrate at home in Ireland, so I have gathered all my favorite Irish recipes and given them my twist to make them even more delicious and achievable just for you " ®Bowker
The book of secrets / Loreena McKennitt.
The album features a cast of over two dozen musical collaborators, and the eight songs contained therein, including North American hit single "The Mummers' Dance", leads the listener on unexpected journeys. Follow the music from ancient Byzantium to a puppet-maker's theatre in Sicily, or from the rocky island of Skellig Michael once inhabited by Irish monks in the Dark Ages to Venice and the journeys of Marco Polo, or from the tragic narrative of " The Highwayman" to the thunder of hooves across the Caucasus and the echoes of Dante's words found, unexpectedly, in a train journey across Siberia.[ http://loreenamckennitt.com/]
St. Patrick's Day murder / Leslie Meier.
"At the start of Meier's charming 14th Lucy Stone mystery (after 2006's Bake Sale Murder), the Pennysaver reporter is on her way to interview the new harbormaster of Tinker's Cove, Maine, and relishing the unusually warm January day when she stumbles on a beheaded body at the end of the pier. The victim turns out to be Dan Malone, owner of the local dive bar. Lucy finds herself not only breaking the story but breaking the news to Dan's brother, Dylan, a famous Irish actor in town to direct a play for the church's centennial St. Patrick's Day celebration. As Dylan's daughter encourages Lucy's little girl to believe in fairies and goblins, Lucy hunts for a very real killer. Warm and homespun characters, plenty of seaside ambience and a fast-moving plot make this a perfect winter cozy." Copyright PWxyz, LLC.
An Irish country wedding / Patrick Taylor.
"In the summer of 1965, doctors O'Reilly and Laverty can be found working comfortably alongside each other in idyllic Ballybucklebo, Ireland. Sharing a general practice in the small village means lots of aches and pains and the occasional emergency, but there always seems to be time for a pre-dinner Jameson. When their loyal housekeeper is suddenly sent to the hospital with a mysterious pain, the peace at their place is interrupted by visiting hours, burnt dinners, rowdy pets, temporary help, burgeoning romance, wedding plans, and a possible career change. In the latest installment in the Irish Country series, Taylor continues the adventures of the much-loved doctors and the Ballybucklebo villagers, complete with a glossary of authentic Irish slang… A spirited and compassionate story filled with pastoral Irish imagery, cheerful village life, and heartwarming romance."–Turza, Stephanie Copyright 2010 Booklist
Holy holidays! : the Catholic origins of celebration / Greg Tobin.
"Tobin provides an abundance of festive holiday trivia, garnishing it with a Catholic twist. Beginning with Advent and roughly following the liturgical year, he not only explores the Catholic origins of acknowledged sacred holidays but also uncovers the often-surprising religious foundations of a host of secular holidays, celebrations, and festivals. Although some of the connections he makes between the spiritual and the secular there is similar confusion about exactly when Jesus was born and exactly when our nation was born, but December 25 and Fourth of July are both immovable feasts are tenuous at best, most of the information is solidly grounded in religious, cultural, and historical fact. Entertaining, enlightening, and chock-full of fun facts and colorful anecdotes, this is a book with mega-browser appeal." –Flanagan, Margaret Copyright 2010 Booklist
If you have a suggestion on a lucky dining establishment you think should also be featured, or any other leprechaun themed topics you'd like us to explore, please let us know!