It's never too late to make a good first impression, especially virtually.  With Valentine's Day around the corner, many online daters will be wondering how to best do just that.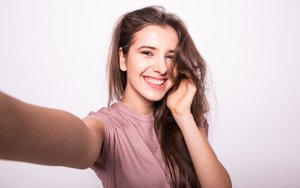 Today, the chance someone checked out the virtual you before asking out the real you is pretty high. Making sure you make the best first impression is easy the with some practical advice from the Justin Lavelle, Chief Communications Officer at BeenVerified.com, the top background checking resource.
A contestant on the new season of The Bachelor has recently come under fire for a racially insensitive photo she posted on Instagram back in 2012. The image has since been deleted. Although she has apologized, she sure didn't make a good first Bachelor impression!
This story is a good reminder that in today's online and connected dating world, first impressions don't mean what they used to. Today, your crush is going to know a lot about you by looking at what you do on social media before you two even meet.
The question is: Are you making a good first online impression? This Valentine's Day, you're going to have a much better chance at finding a special valentine if you're making a good online impression. So, here's how:
1. Clean Up Your Social Media Profiles
Before you end up in a situation like this Bachelor contestant, go back through all your social media accounts and clean up your act. Are there any insensitive or stupid things you posted back in high school? Go back and delete those. Just like you check out the social media profiles of your online crush to get a better sense of who he or she is, that person is doing the same about you.
2. Display The Right Kind Of Profile Photo
In the age of Tinder—when people are making split second swipe decisions—a really good profile picture is going to help you make a good first impression (and get better matches). Here are some tips for having the best profile photo based on data from OkCupid and Tinder: Take up the full frame. People in expansive postures were found to be considered more attractive. Don't cover your face. Tinder's in-house sociologist, Jess Carbino said covering your face with sunglasses or a hat or anything, is one of the biggest mistakes you could make. Think about your clothes. Tinder suggests that "individuals who want to make a splash should wear a vibrant color." Show yourself in an activity. This is a great way to start a conversation. Don't smile. OkCupid found that women who have a flirty expression looking directly into the camera get the most messages, while guys who are looking away from the camera and not smiling get the most messages.
3. Send The Right Kind Of Message
The most effective messages to send your online crush, according to research by OkCupid, should be: Tweet-like. Messages 40 to 60 characters long tend to have the highest response rate. Written without spelling or grammar errors. Exceptions include, "haha" or "lol" which can display genuine laughter. Complimenting what they do, not how they look. It also shows you read their profile. And to women: sending the first message means you're 2.5 times more likely to get a response.
4. Respond Quickly
If you're on a dating app like Tinder, chances are you're chatting with several other singles simultaneously. Thinking you should play hard-to-get would be a modern dating blunder. Simply said, responding quickly to a message helps you make a better first impression. Don't make the mistake of taking your precious time to respond to someone. By the time you respond, he or she has likely already found interest in another person. Making a good first impression today means thinking about how your online presence shapes the attitudes and opinions of others. In order to attract the right person, be genuine but don't be insensitive. As the saying goes, "You never get a second chance to make a first impression."
Justin Lavelle is the Chief Communications Officer for BeenVerified.com which helps people discover, understand and use public data in their everyday lives. BeenVerified is a leading source of online background checks and contact information. It allows individuals to find more information about people, phone numbers, email addresses, property records and criminal records in a way that's fast, easy and affordable. Visit the site at https://www.beenverified.com.